Happy September!
If you're looking for something unique for gift giving, you'll find lots of surprises at THE CLOWN, including imported Tuscan Olive Oil, sauces and spreads from Piedmont, aged balsamic vinegars, tinned fish, as well as the latest cookbooks and fun wine and cocktail accessories. And so much more.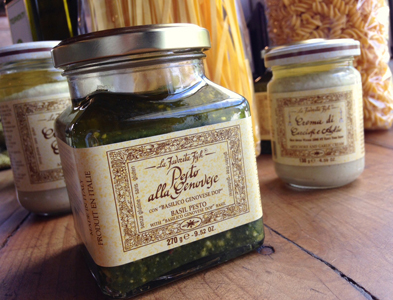 Sauces, spreads and pastas from La Favorita Live, Cuneo, Italy
All natural ingredients, no preservatives.
Tartufolio (White Truffle Oil), Pesto alla Genovese (Pesto), Pesto in Salsa ( Sun Dried Tomato Pesto), Crema di Carciofi (Artichoke Cream), Crema di Carciofi e Aglio (Artichoke and Garlic Cream), Carciofi alle Erbette (Artichokes with Herbs), Crema di Funghi Porcini (Porcini Mushroom Cream), Crema Olive Verdi (Green Olive Spread), Crema Olive Nero (Black Olive Spread), Cipolline all'Aceto Balsamico (Onions in Balsamic Vinegar of Modena), Sugo Antico (Red Sauce), Sugo Antico al Tartufo (Red Sauce with Truffle), Egg Pasta: Pappardelle, Tagliatelle, Tagliatelle Tartufo, Tajarin, Pennete
_________________________________________
An Exciting Selection of Tinned Fish from France, Spain, Italy and the US.
Anchovies, Scallops, Sardines, Octopus, Mackerel, Mussels, Oysters, Razor Clams, Tuna Belly, Branzino and Fish Pâtés from Conservas de Cambados, Ramón Peña, Mouettes d'Arvor, Espinaler, Ekone Oyster Co., and Patagonia Provisions.
_________________________________________
Crackers and Cookies Tuscan Crisps by DOLCETTO,
French Butter Cookies by PIERRE BISCUITERIE, Shortbread Cookies by SWEET MONKEY BUSINESS of Belfast, Maine,
LARK Scourtin Olive Shortbread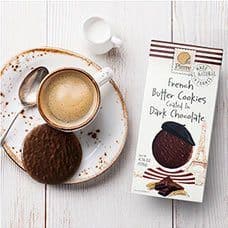 .
_________________________________
Artisan Chocolates by PR Craft Confections of Maine
We are thrilled to introduce these small batch crafted, artisan chocolate bars, and boxed 4 and 5-piece assortments. Made in Portland, Maine, by Chocolatier Peter Robbin, using premium Venezuela cacao and many Maine ingredients.