If you're looking for something unique, you'll find lots of surprises at THE CLOWN, including imported Tuscan Olive Oil, sauces and spreads from Piedmont, aged balsamic vinegars, as well as the latest cookbooks and fun home chef accessories.
Balsamic Vinegars and Salad Dressings from Manicardi of Modena, Italy
Tramonti Tuscan Olive Oil. The new vintage is here!
Extra Virgin, first pressing, cold-pressed, from Castellini in Tuscany, available in three sizes:
500 ml $20 750 ml $26 and 1 ltr $35 We can ship!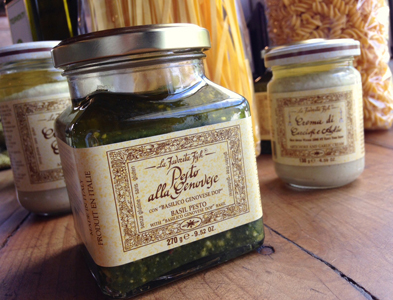 Sauces, spreads and pastas from La Favorita Live, Cuneo, Italy
All natural ingredients, no preservatives.
Tartufolio (White Truffle Oil), Pesto alla Genovese (Pesto), Pesto in Salsa ( Sun Dried Tomato Pesto), Crema di Carciofi (Artichoke Spread), Crema di Funghi Porcini (Porcini Mushroom Cream), Crema Olive Verdi (Green Olive Spread), Crema Olive Nero (Black Olive Spread), Sugo Antico (Red Sauce), Sugo Antico al Tartufo (Red Sauce with Truffle)
Egg Pasta: Pappardelle, Tagliatelle, Tagliatelle Tartufo, Tajarin, Riccioli