An unexpected gift shop, that delights. If you're looking for a gift, or wanting to treat yourself, you'll find colorful French textiles, Cali cosmetics, French and English soaps, Italian ceramics, South African tableware, Dozorme French cutlery, Italian marble/New England-printed coasters, Riedel and Spiegelau stemware, wine accesories, select books and so much more, at THE CLOWN.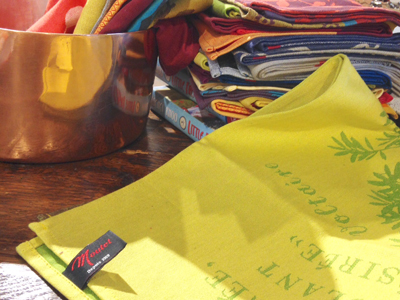 The gift of light! Solar-powered lanterns by SOLIGHT DESIGN. 3 Styles. "Solight Design makes beautifully-architected and sustainable home lighting products that appeal to the design and environmentally concious consumer while providing lights to those in need."
Journals by ATTIC JOURNALS -- a unique line of journals made with vintage books
Beldi Tea, Wine and Champagne glasses by AtelierBOEMIA -- handblown, recycled glass made in Marakesh, Morocco
Creative and colorful bags by MALIA DESIGNS -- inspired by the colors and culture of Cambodia
French Cookware and Carafes by COOKUT France, "for the kitchen, table and home"
Unique hand-poured soy candles of artisan fragrances by PADDYWAX, in a city-inspired concerte vessel
"Modern, Chic and Magnifique" Paper Placemats by the Pad, Tumblers and Napkins by PLAT DU JOUR.
Colorful telephone wire coasters from BRIDGE FOR AFRICA by South African artisans.
x
Fun gifts for the traveler: "Soft city maps for urban jungles" by CRUMPLED CITY
WILDSAM FIELD GUIDES -- an American travel brand built upon telling true stories of place
Gift Baskets! Available ready-to-go or can be custom-created!