The Holiday Season is here!
Thinking about Wine?
Think THE CLOWN!
It's the great store with the funny little name on Route One in York! Whether you're after a knock-your-socks-off bottle for a holiday gift, a special occasion, or a friendly glass to sip with friends by fireplace warmth; you'll find old favorites, new surprises, and a world of possibility at THE CLOWN. The thoughtful, attentive staff will guide you through the most impressive wine selection north of Boston, with hard-to-find vintages and sought after wines, as well as a great selection of wines for $9.99.
---
What's New:
An extensive & exciting selection of Vermouth, Aperitifs & Vino Amaro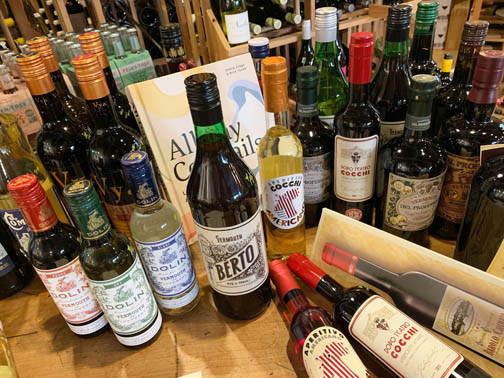 and so much more!
See our newly expanded section of Vermouth, Aperitifs, Vino Amaros as will as artisanal bitters by Vena's Fizz House, Luxardo Maraschino cherries, cocktail shakers, bar accesories, and drinkware.
Featuring Luxardo Maraschino Cherries from Italy, Artisan Bitters by Venas's Fizz House.
---
Thank you to our customers who helped us raise money for Feeding America during the last two weeks of January. A percentage of our sales created a $1,450 donation to the charity. This thank you below, from Feeding America, is to you:
"Thank You For Your Gift!
"Your incredible act of generosity will have a profound effect on someone's life. In fact, your gift today will help us provide 14,500 meals to families in need. That's truly phenomenal – and something we hope you take great pride in! And it's not just food you're giving with your donation today, it's also hope. When a bag of food or groceries is placed in the hands of someone struggling with hunger you can actually see their spirit lift as this one realization takes hold: someone cares. And today, that someone is you." – FEEDING AMERICA
Thank you! -- Kyle and Monique, THE CLOWN
---
Yes, we are open!
We are now open again for browsing and shopping with the hope that our customers will be thoughtful and kind with respect to one another and our staff. We will honor the social distancing guidelines. Masks are now optional, please respect others' choice.
We are grateful for the support you, our customers, have given us during this unprecedented time of a pandemic, and are happy that so many of you continue to stay healthy and visit us for your wine and gift needs. We thank you for your continued patronage, for the referrals you sent our way this winter and early spring, and for your patience as we filled orders.
Email and phone orders are welcome.
To those of you who are happy and comfortable with our current email and call order program with pickup in the entryway, we encourage you to continue to utilize this service.
Here's hoping that our decision and others' decisions in reopening our state will result in intelligent, strategic and successful cooperation resulting in a coordinated effort to both enhance our economy and protect the health of our residents.
Happy Holidays!
---